Nice multiband vertical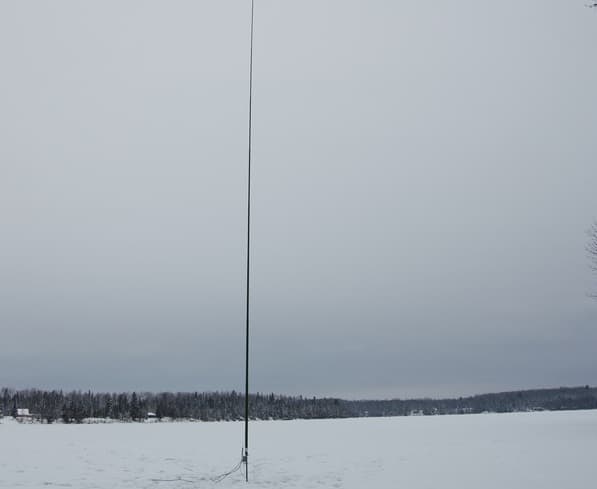 Learn More At http://www.AlphaAntenna.com
This vertical utilizes multiple tapered telescoping fiberglass tubes to construct the 31 foot antenna. Easy assembly and installation. Very light weight, about 6 lbs.. I used a TV antenna tripod with a 1 1/4 diameter pipe to support the vertical on the ground as this is a part-time use station. I installed 30 radials about 26'9″ in length and connected the antenna and ground radials to an Icom AH-4 antenna tuner at the base of the antenna. The radials were made from 17g. electric fence wire purchased from Tractor Supply supplied in a spool (1,320 foot spool). Plenty left over for more radials in the future.
The antenna loads in seconds on 80 through 6 meters with low SWR across all of the bands. The AH-4 tuner provides the tuning "magic" to this simple vertical, which works great.
My rig is an Icom 706 MkII G pushing 100 watts and in less than 10 hours of operation have worked DX to15 countries, some which had big pile ups (YL on Martinique) and about 10 states.
With few exceptions, using my modest 100 watt station, if I can hear 'em, I can work 'em!
This antenna is a good solution for amateurs looking for a multiband vertical at an affordable price point.
A nice feature of this antenna is the ability to quickly stow it in the event of high winds. I merely lift it from the pipe, disconnect the coax feed and lay it on the ground. Takes about 30 seconds to quickly remove this antenna from harm's way!
I am using this antenna at my part-time home in Florida, but have been so impressed that I plan to install the same antenna at my home QTH.
I will post some photos of the antenna, tuner and base mount on my QRZ.COM web page, which may be helpful.
K3WR