Portable, solid construction, and kicks butt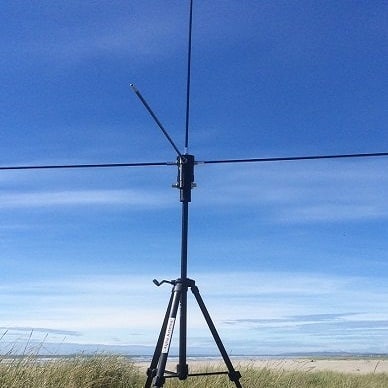 I'm a newly licensed General and this is my first HF antenna, paired with my little Yaesu FT-817 5-watt QRP rig. So I don't really have anything to compare it to. But just go to my QRZ.com page and take a look at my QSO map showing all of the great phone QSOs I've had in just the 2 months I've owned this wonderful antenna. SSB to Alaska, Japan, Venezuela, Chile and even Australia with just 5 watts was done with this antenna. That I think speaks for itself. Probably works even better for CW, but I haven't tried it yet. It stows in a nice compact carrying bag and sets up in literally 3 minutes. Very stable on a quality tripod base.
I also purchased the counterpoise kit and that helped me achieve near perfect 1:1 SWR on 10, 15 and 17 meters, but was actually more difficult to tune on 40 meters.
Overall, I can't recommend this antenna more highly for a rugged and capable HF antenna, especially for portable QRP.
K7JNT