6-40 Meter MOTO-FMJ HF Mobile EMCOMM Antenna
$199.00
The Alpha MOTO-FMJ (Full Metal Jacket) provides you with the most Rugged and Compact HF mobile EMCOMM antenna system available.
Description
The 6-40M Alpha MOTO-FMJ (Full Metal Jacket) antenna provides you with the most Rugged and Compact HF mobile EMCOMM system available.
It requires:
-No extra whips (comes with 5' whip)
-No adjustments required for band changes.
-No moving parts
-No power required
-No control interface boxes
-An external antenna tuner
Get the optional 17 foot 9 inch telescopic whip and 25' NVIS Element to operate stationary mobile from 30MHz to 3.5MHz for MARS, SkyWarn, ARES, POTA, SOTA, CERT, SATERN, or EMCOMM. Maximum performance is enhanced by mounting location and proper grounding.
Placing the core components in the 316 Stainless Steel housing enables:
-100% RFI rejection
-Critical protection in a non-magnetic metal housing
-The highest level of corrosion protection
-Full RF bonding
-Peak Power: 100 PEP SSB, 50 CW, or 25 watts of sporadic use for digital modes (10 watts continuous for digital modes)
Installation Note: Never Remove or Loosen any of the Bolts, Washers, Nuts, or Caps on the Alpha Match.
Toolbox installation example of the Alpha MOTO Antenna on customer's custom mount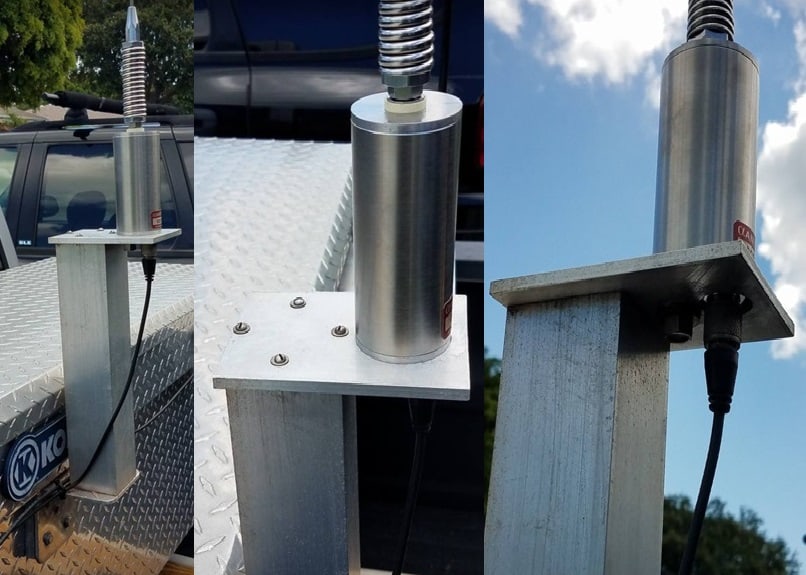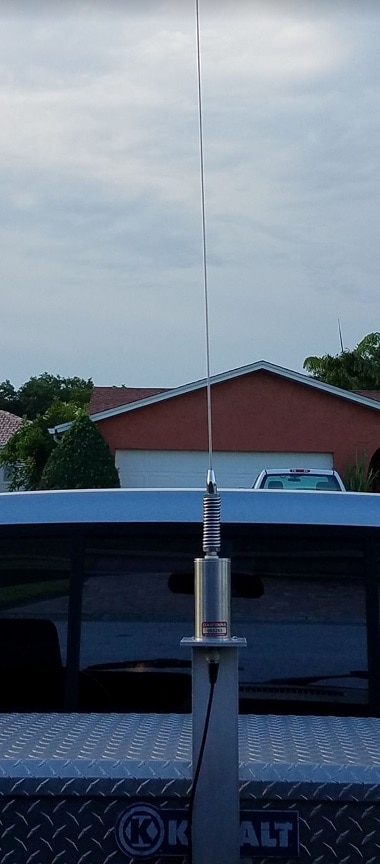 Just install the Alpha MOTO on a mount that is connected to the bare metal surface of your vehicle and attach your antenna tuner to the indestructible 6-40 Meter Alpha MOTO-FMJ Antenna that is only 5 feet high. This will allow you to tune then transmit and receive on 6-40 meters while driving down the highway or parked in your favorite spot for HF operations. An added bonus, you can also tune 60 & 80 Meters so you can listen in on your favorite nets or just pass the time listening to QSOs. A 5 foot whip is included or you can add our 13 foot MilStick whip for even greater performance when operating stationary mobile. Remember to purchase the optional Alpha Jam Mount less you already have a similar mount.
From the Founder of Alpha Antenna; "This antenna works very well with an external tuner on 6, 10, 12, 15, 17, & 20 meters. On 30 it still works pretty well and you'll even make some decent state-side contacts on 40 meters. On 60 & 80 meters, it's a receive only antenna, although contacts have been logged. Just remember to place it as high as possible on your vehicle and use a mount that directly connects to bare metal on your vehicle like the Alpha Jam Mount does."
Analysis of the Alpha MOTO Antenna with optional 25 feet of coax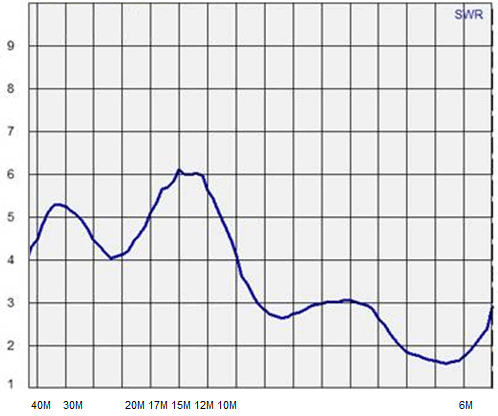 Just connect an external wide band tuner per the manual, press the tune button, and you're on the air! Simply put, the Alpha MOTO-FMJ puts you on the air making contacts for an economical price!
We are dedicated to improving all of our antennas. Specifications and descriptions are subject to change without notice.
If you have a suggestion on price or how to improve this product, please send us your feedback by clicking here.
Additional information
| | |
| --- | --- |
| Weight | 48 oz |
| Dimensions | 19 × 19 × 5 in |
| condition | New |
| availability | in stock |
| brand | Alpha Antenna |
| GTIN | 861085000251 |
| mpn | MOTO-FMJ |
| product type | HF Antenna |